Parts & Components
6U Data Cabinet
6U Data Cabinet
Welded construction
Lockable glass front door in a steel surround (over 180-degree door opening with quick release pins)
Cable entry points top and rear with gland plates
Lockable/removable side panels
Compare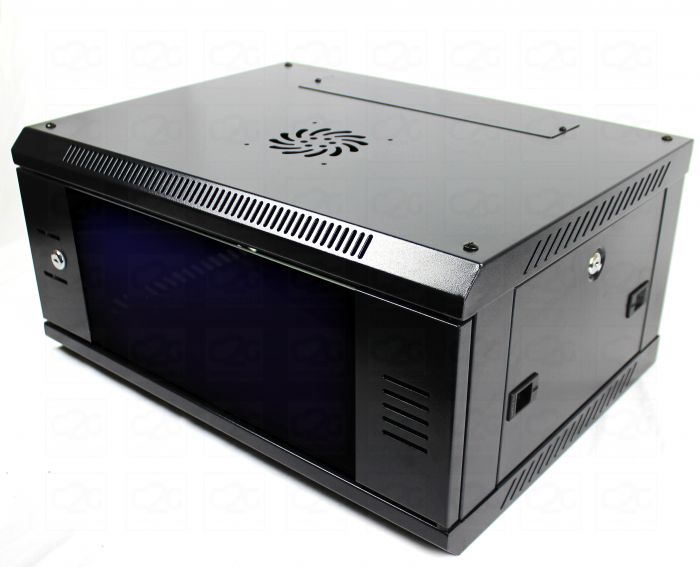 More and more home devices to LAN, RTV, CCTV installations are made with a view to the RACK system, so that their installation is aesthetically pleasing, and that devices are protected against accidental mechanical damages.
The 
90EPRADOR196U-600
cabinet is suitable for mounting all sorts of devices in standard 19″ rack housings. Ideal solution for installing DVRs, power units, splitters, headends, network devices, etc. Inside the cabinet can be also placed the devices that are not in standard RACK-19″ housings, for example, DVRs, multi switches, RTV-SAT amplifiers, modulators. For this purpose, the user should mount additional shelf/shelves (not included) available for the RACK cabinet.
The RACK cabinet has many openings ensuring adequate air circulation. Additionally, it is possible to install fans to increase the ventilation.
Wall mounting with mounting bracket for hanging cabinets 90A19-AL (not included in the kit) or hangers (not included).
The Data cabinet is made of aluminum and steel framed cabinet features lockable front, side, and rear access doors/panels for security. The vented doors combine with the optional cooling fans (up to six 120mm fans on the top panel) to provide excellent air circulation, keeping your servers and other equipment at optimum operating temperature.
Specifications
REDUCE EXCESS CLUTTER: This 6U patch panel cabinet enclosure lets you securely mount your electronics, network, and data equipment to the wall, helping to eliminate any additional clutter and keep your server room organized.

BUILT TO LAST: Designed to provide tough and rugged housing, this wall mount rack cabinet is constructed of heavy-duty steel for ultimate durability.

WALL MOUNT OPTION: This multi-use patch panel cabinet enables you to store your data/network / IT equipment virtually anywhere, without having to use your floor space, making it an ideal storage solution for small or home office spaces.

LARGE VIEWING AREA: For added convenience, this data rack cabinet has a lockable acrylic door with a large viewing area, so you can keep your server room equipment secure, while still being able to monitor the status of the equipment.

LIFETIME WARRANTY: Constructed of high-quality materials, this 6U patch panel cabinet is backed by StarTech.coms lifetime warranty, making it a truly cost-effective solution.
Features of the 6u 600mm Deep Wall Mount Data Cabinet.  Rack 2 Part Rack with Glassdoor Rear Swing Section and 2 removable side doors  600mm deep wall mount data cabinets is designed with versatility in mind.
When mounted on the wall, the cabinet can swing open, providing access to the rear of the cabinet for easy installation and maintenance of equipment. Lockable and removable side panels also provide easy access to the cabinet.
Cable entry is provided top and bottom of the cabinet and also in the rear swing section.
6U Data Cabinets 600 x 600 Data cabinet features 
6u 450mm Deep Wall Mounted Data Cabinet 600mm by 450mm provides the flexibility to house both desktop and 19″ rack-mount devices in the same unit. The intelligent modular product design utilizes the vertical space effectively, with superior ventilation and excellent cable management. Some of our 450mm Deep Wall cabinets have lockable perforated front or rear doors, lockable side access doors and are available as pre-assembled or flat packed upon request.
Features
Wall-mount cabinet secures and organizes 
6U
of 19-inch rack equipment in network closets, classrooms, and other locations with limited floor space. Houses network switches and patch panels up to 16.5 inches deep. The side panels and front door lock securely to help prevent damage, tampering, or theft. The front, top, bottom, and removable side panels are vented, which allows air to flow freely and keep equipment cool.
Adjustable Front and Rear Profiles to enable eg rear mounting of PDU if required.
Supplied with four sturdy wall-mounting bolts.
Supplied with cage nuts and mounting screws to support equipment.
Upper and Lower Cable Entry Points with removable covers
Quick-release front door – enabling easy removal for access while cabling.
Multiple Venting Holes to keep equipment cool (there is space for a fan tray).
Welded construction
Lockable glass front door in a steel surround (over 180-degree door opening with quick release pins)
Cable entry points top and rear with gland plates
Lockable/removable side panels
Accessories are available on the following pages:
DATASHEET
Technical Features
INTERNAL WIDTH:
19 "
INTERNAL HEIGHT:
6 U
INTERNAL DEPTH:
505 mm
EXTERNAL WIDTH:
570 mm
EXTERNAL HEIGHT:
368 mm
EXTERNAL DEPTH:
600 mm
HOLES FOR FAN COOLERS:
105  x 105 mm (2 places)
COLOR:
Black RAL9004
DOOR:

·  Front: glass

·  Side: metal

Additional Information