Parts & Components
4U Data Cabinet
4U Data Cabinet
Available in several different sizes
Lockable, reversible front door with perspex window for extra security
Easy cable entry options via top, bottom, and rear
Vented side panels
Pre-assembled, for fast installation
Sheet steel construction
Supplied with two keys
Two adjustable 19″ mounting angles
Useable depth: 370mm
Compare
Buy 4U Deep Data Cabinet (W600mm x D450mm) from BigTech Solutions Shop in Nairobi.
The 4U Wall Mount Data Cabinets have been a popular choice for installers over the years because they meet the all-round, standard requirements of data installation, come with the option of pre-assembled fast delivery in Kenya, have excellent access, safety, and security in use, and offer robust durability once installed.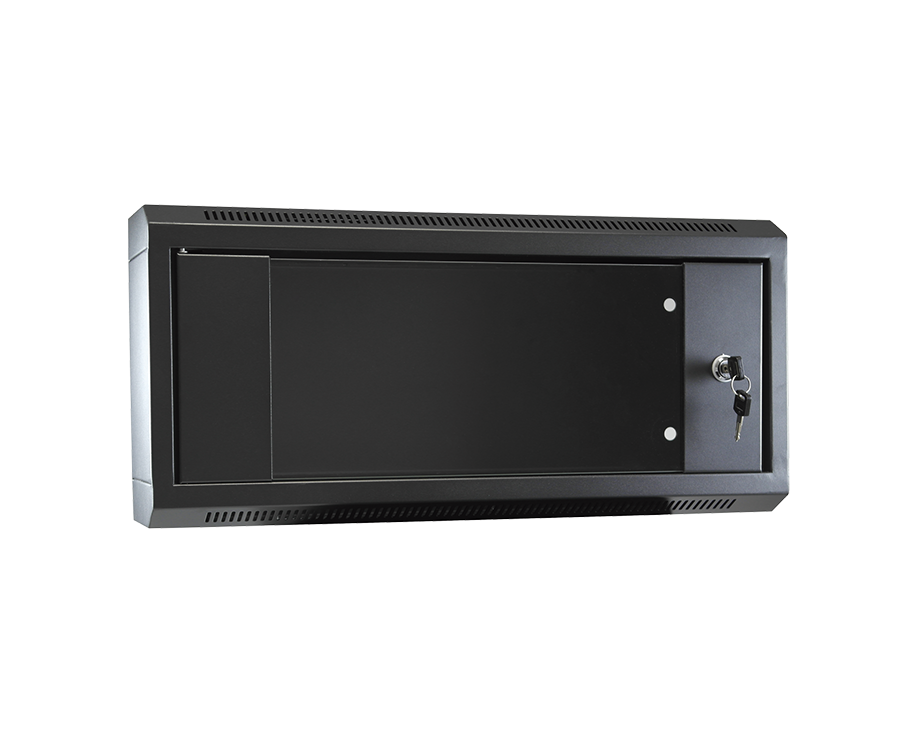 In short, the 4U 19″ Rack cabinet has removable side panels and a lockable front door. Constructed from cold-rolled steel with folded edges for strength and stability.
Components of the Data Cabinet
The front and rear rack strip is supplied and mounted to rails inside the cabinet, enabling the mounting depth to be adjusted to accommodate equipment with overhanging fittings or to support the rear of heavy units. The top panel is vented for cooling and has a cut-out for mounting a cooling fan if required.
The front door is removable and has a pane of 5mm tempered glass flanked by folded steel edge panels which can be mounted to open to either the left or right. The rear panel has to fix apertures for wall mounting or alternatively, the cabinet can be free-standing. (Maximum usable Depth is 370mm)
More and more home devices to LAN, RTV, CCTV installations are made with a view to the RACK system, so that their installation is aesthetically pleasing, and that devices are protected against accidental mechanical damages.
The E-PRADO-R19-4U/450 cabinet is suitable for mounting all sorts of devices in standard 19″ rack housings. Ideal solution for installing DVRs, power units, splitters, headends, network devices, etc. Inside the cabinet can be also placed the devices that are not in standard RACK-19″ housings, for example, DVRs, multi switches, RTV-SAT amplifiers, modulators.
For this purpose, the user should mount additional shelves/shelves available for the RACK cabinet. The RACK cabinet has many openings ensuring adequate air circulation. Additionally, it is possible to install fans to increase the ventilation.
Wall mounting with mounting bracket for hanging cabinets A19-AL (not included in the kit) or hangers (not included).
Specifications
The box for this item contains :
Top panel
Base panel
Front frame
Rear frame
Rear plate
4 x rack strips (2 left + 2 right)
4 side panel plastic locator studs
Glassdoor
Assembly hardware
Door lock + 2 keys
Rack mounting captive nuts & screws
4U 450mm Deep Data Cabinet Features
Lockable, reversible front door with perspex window for extra security
Easy cable entry options via top, bottom, and rear
Vented side panels
Available in several different sizes
Pre-assembled, for fast installation
Sheet steel construction
Supplied with two keys
Two adjustable 19″ mounting angles
Useable depth: 370mm

Outer dimensions: 17.7"D x 11"H x 23.6"W

Fits Standard 19″ rack-mount equipment. Inside usable space of 15.35" front to back.

No fans included. Only one 120mm venting slot is available.

The door is Tempered Glass.

Removable side panels with locks. Comes fully assembled.

Top and bottom brackets for cable and wire access. Cage Nut kit included for 2U.