Electric Fence Systems
End Strain insulators 2022.
End Strain insulators 2021
Product Dimensions : 

6 x 8 x 2 inches; 13.6 Ounces

Item model number:

652302

Date First Available:

September 8, 2010

Manufacturer:

Farm Supply, LLC

ASIN:

B0042AP0G

Domestic Shipping: 

Item can be shipped within the U.S.
Compare
A cost-efficient way of insulating your electric fence wires from your strainer posts. Suitable medium strain use.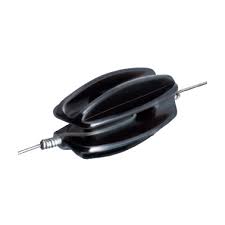 UV stabilized for long life
Deep grooves hold the wire in place and prevent twisting
Long leakage path prevents arcing
Use with most sizes of fence wire.

The "egg" shape construction is both safe and very strong

Very versatile and strong insulator

Can make many types of fence posts

The main color is Black
This is a dead-end or corner insulator with very good mechanical properties that specially designed for fences using poly wire, poly ropes, aluminum wire, high tensile steel wire, and 1/2″ polytopes.
This electric fence insulator made of high-quality material
Electric fence strain insulator's Features: sun protection, rain protection, anti-weathering, with long-serving life.
Eco-friendly, completely harmless to people, pets, and wildlife.
These strain fence insulators are Easy to install, screws easily into timber fence, no special tools or technical know-how is needed.
As essential electric fence accessories, this protection contains 100 pcs insulators, convenient to replace the broken one
This electric fence insulators Total length: 9cm / 3.54inch Packaging included:100Pcs
Product Dimensions : 6 x 8 x 2 inches; 13.6 Ounces
Item model number: 652302
Date First Available: September 8, 2010
Manufacturer: Farm Supply, LLC
ASIN: B0042AP0G8
Domestic Shipping: Item can be shipped within Kenya