Surveillance Cameras
CCTV Bulb Camera 1080p
Resolution: 1080P(1280*960)
Chipset: 8135S+1035
Angle :360 degree
Size: 90*90*40mm
Support Memory Card: TF card(128G) – Not Included
Bulb Color: White
Compare
ABOUT THIS BULB CAMERA 1080P
1. 360 Degrees Panoramic View; Provides coverage of a wide, horizontal area to detect the activity of people. Because of the wide-area coverage, a single bulb panoramic IP camera can be an attractive alternative to purchasing and placing multiple cameras.
2. 1.3 Mega Pixels High Resolution
960P high resolution, and loop recording in the micro SD card(up      to 128GB)
3. Simple and practical. Just need to set up a camera, then you can use your phone to remote view anywhere you want, to monitor at the office, other cities, or other countries. If you looking for a WiFi IP camera for an easy remote view, this is the most suitable product so far. 360-degree panoramic view, True 960P Full HD Videos
Secure your homes, office, or business premises with this easy-to-install bulb camera in Kenya. The Panoramic Light Bulb Wi-Fi Hidden Camera has everything you could want in a surveillance camera. Designed as an ordinary light bulb, this powerful device records full 960p HD video, and you can live-stream all your videos on your smartphone, tablet, or PC computer.
It has a 360-degree fisheye lens that's perfect for theft or employee surveillance, or for keeping an eye on your loved ones. Protect your home or office 24 hours a day with the Panoramic Light Bulb Wi-Fi Hidden Camera.
Every home or office has at least one light bulb, so the device won't look out of place. Just screw the Panoramic Light Bulb Wi-Fi Hidden Camera into any light socket and you're ready to start recording. If you suspect that someone has been doing something inappropriate on your property, you can capture all the evidence without raising suspicion.
Despite its covert design, the camera records full 1080p HD video and audio. It captures faces and small details clearly from across a large room. It also comes equipped with a full night vision that's perfect for around-the-clock surveillance.
Break-ins tend to happen at night, and with the Panoramic Light Bulb Wi-Fi Hidden Camera, you won't miss anything important even if there's no light in the room.
One of the best features of the Panoramic Light Bulb Wi-Fi Hidden Camera is its 360-degree fisheye lens. It lets you see nearly every inch of the space, so you don't have to worry about missing something important at the edges of the frame. Just position the camera in the middle of the room and you'll be able to see everything that's happening nearby.
Features of the Bulb Nanny Camera
Wireless Camera, super wide view 360 degrees: Do not limit the extent of the view in your property. Fitted with an inbuilt 2.0 megapixels lens for the camera, the wireless bulb camera in Kenya ensures that you can see all images and videos recorded by the camera in crystal clear capabilities.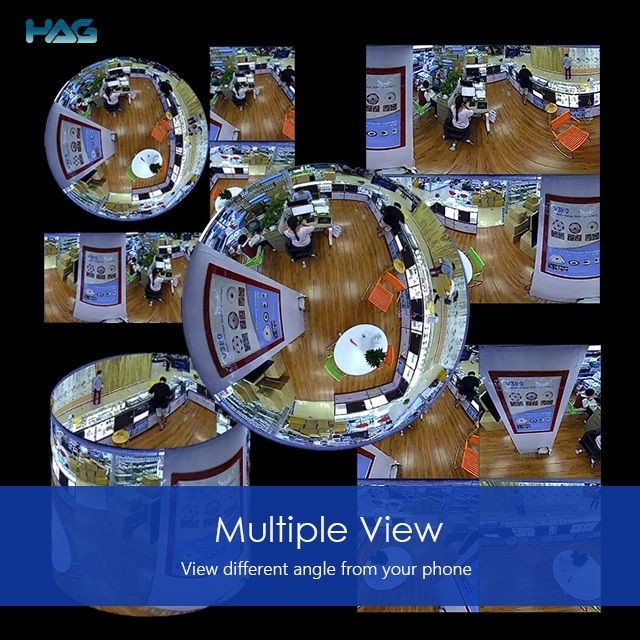 Microphone and Speaker: Sometimes just having a camera isn't enough. Sometimes you need to communicate with someone who's on the other end, but they don't necessarily have their phone on them, or maybe they don't have a phone at all.
An example might be you see someone running with scissors, so you need to tell them not to run with scissors. Or maybe you're trying to guide someone through a cooking recipe. Either way, it's probably a safe bet to get CCTV panoramic cameras that have a two-way speaker feature.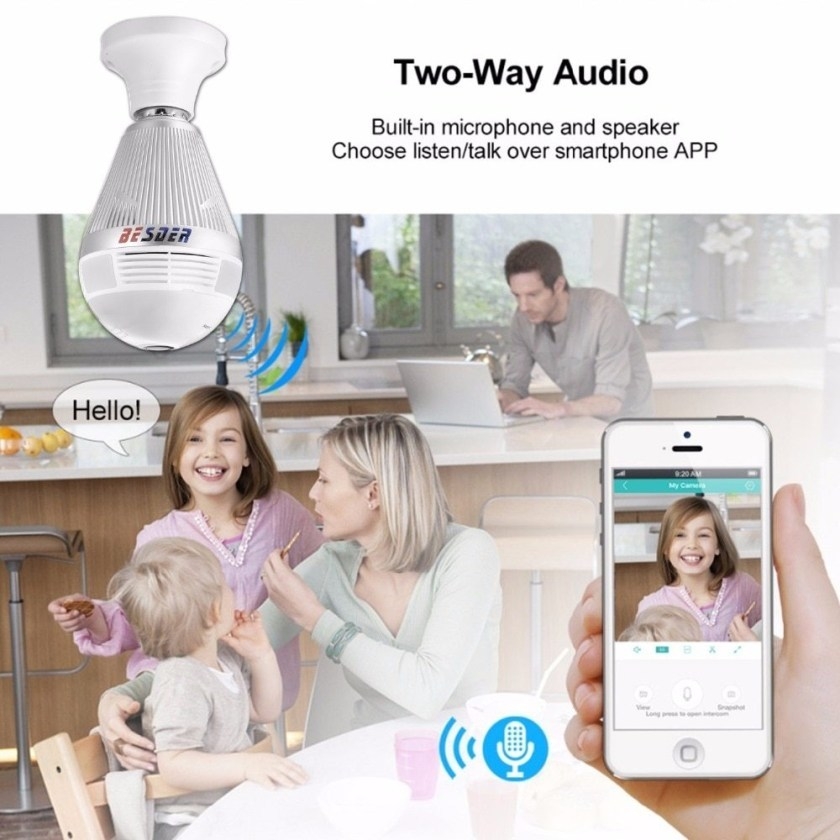 Motion detection&Alarm: Immediately motion is detected in the room, the camera sends notifications straight to your phone or laptop either as snapshots or emails, and activates an inbuilt alarm which is controllable via the monitoring application/software 
Support Cloud & SD card: Support both cloud and memory card storage. TFT storage maximum 128GB support. Cloud storage unlimited storage.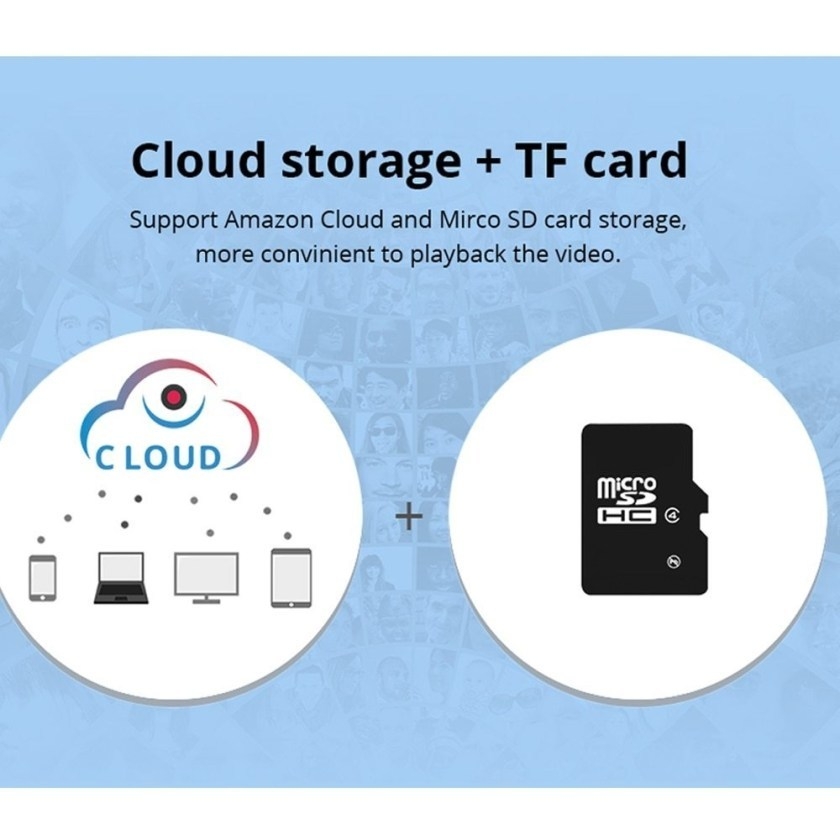 Where the bulb camera can be used: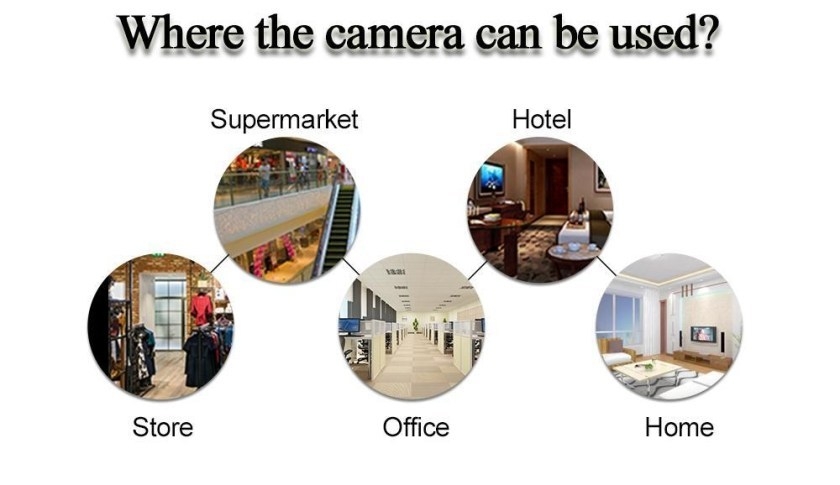 Operation Mode
You need to download an application to your phone for viewing.
The application is compatible with Android and Apple iPhone.
The camera can be connected via WiFi for remote viewing.
The camera can also be used without WiFi and it records on a memory card. (Memory Card Not Included)
Main Features of the bulb Camera
Made of high-quality materials with meticulous work.
Built-in HD lens, we can get 360-degree panoramic images.
Two-way audio, built-in microphone, and speaker, instant chat freely.
Wireless design, easy to install, widely used in multiple places.
Night vision function, you can easily get a clear situation at night.
Night vision: day and night color black and white automatic switching
Network signal: support WiFi
It supports Android and Apple IOS devices.
Storage via memory card 64GB and below. (Memory Card Not Included)
Built-in Microphone and Speaker
3 Watts LED light for nighttime lighting.