Description
4U Deep Data Cabinet (W600mm x D450mm)
4U deep data Cabinet in Kenya is retailing at ksh 6,800.Buy 4U Deep Data Cabinet (W600mm x D450mm) from BigTech Solutions Shop in Nairobi.The 4U Wall Mount Data Cabinets have been a popular choice for installers over the years because they meet the all-round, standard requirements of data installation, come with the option of pre-assembled fast delivery in Kenya, have excellent access, safety, and security in use, and offer robust durability once installed.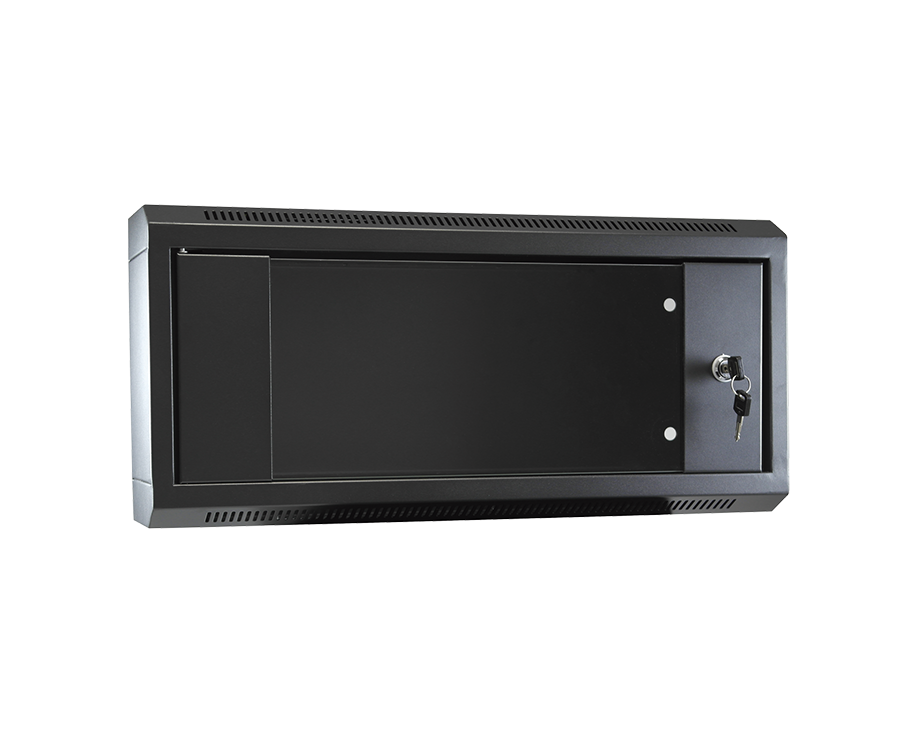 Components Of The 4U Deep Data Cabinet
The front and rear rack strip is supplied and mounted to rails inside the cabinet, enabling the mounting depth to be adjusted to accommodate equipment with overhanging fittings or to support the rear of heavy units. The top panel is vented for cooling and has a cut-out for mounting a cooling fan if required.
The front door is removable and has a pane of 5mm tempered glass flanked by folded steel edge panels which can be mounted to open to either the left or right. The rear panel has to fix apertures for wall mounting or alternatively, the cabinet can be free-standing. (Maximum usable Depth is 370mm)
More and more home devices to LAN, RTV, CCTV installations are made with a view to the RACK system, so that their installation is aesthetically pleasing, and that devices are protected against accidental mechanical damages.
The E-PRADO-R19-4U/450 cabinet is suitable for mounting all sorts of devices in standard 19″ rack housings. Ideal solution for installing DVRs, power units, splitters, headends, network devices, etc. Inside the cabinet can be also placed the devices that are not in standard RACK-19″ housings, for example, DVRs, multi switches, RTV-SAT amplifiers, modulators.
For this purpose, the user should mount additional shelves/shelves available for the RACK cabinet. The RACK cabinet has many openings ensuring adequate air circulation. Additionally, it is possible to install fans to increase the ventilation.
Wall mounting with mounting bracket for hanging cabinets A19-AL (not included in the kit) or hangers (not included).
Why Buy The 4U Deep Data Cabinet
Reduce Excess Clutter
This 6U patch panel cabinet enclosure lets you securely mount your electronics, network, and data equipment to the wall, helping to eliminate any additional clutter and keep your server room organized.
Built to last
Designed to provide tough and rugged housing, this wall mount rack cabinet is constructed of heavy-duty steel for ultimate durability.
Wall Mount Option
This multi-use patch panel cabinet enables you to store your data/network / IT equipment virtually anywhere, without having to use your floor space, making it an ideal storage solution for small or home office spaces.
Large Viewing area
For added convenience, this data rack cabinet has a lockable acrylic door with a large viewing area, so you can keep your server room equipment secure, while still being able to monitor the status of the equipment.
Lifetime Warranty
Constructed of high-quality materials, this 6U patch panel cabinet is backed by StarTech.coms lifetime warranty, making it a truly cost-effective solution.
Features of the 6u 600mm Deep Wall Mount Data Cabinet.  Rack 2 Part Rack with Glassdoor Rear Swing Section and 2 removable side doors  600mm deep wall mount data cabinets is designed with versatility in mind.
When mounted on the wall, the cabinet can swing open, providing access to the rear of the cabinet for easy installation and maintenance of equipment. Lockable and removable side panels also provide easy access to the cabinet.
Cable entry is provided top and bottom of the cabinet and also in the rear swing section.
The box for this item contains :
Top panel
Base panel
Front frame
Rear frame
Rear plate
4 x rack strips (2 left + 2 right)
4 side panel plastic locator studs
Glassdoor
Assembly hardware
Door lock + 2 keys
Rack mounting captive nuts & screws
4U 450mm Deep Data Cabinet Features
Lockable, reversible front door with perspex window for extra security
Easy cable entry options via top, bottom, and rear
Vented side panels
Available in several different sizes
Pre-assembled, for fast installation
Sheet steel construction
Supplied with two keys
Two adjustable 19″ mounting angles
Useable depth: 370mm

Outer dimensions: 17.7′ 'D x 11"H x 23.6"W

Fits Standard 19″ rack-mount equipment. Inside usable space of 15.35" front to back.

No fans included. Only one 120mm venting slot is available.

The door is Tempered Glass.

Removable side panels with locks. Comes fully assembled.

Top and bottom brackets for cable and wire access. Cage Nut kit included for 2U.
FAQ About 4U Deep Data Cabinet
What is the size of a 4U data cabinet? 4U Deep Data Cabinet (W600mm x D450mm)
What size data cabinet do I need? A 600mm deep Cabinet is the standard for general Switches, but you can still go to 800mm deep, if your devices need it. Server cabinets are often deeper to fit blade servers and a typical Server Cabinet is 1000mm deep
What does a data cabinet do? A data cabinet (also known as a server rack) is a physical cabinet that's either floor or wall mounted to store networking devices and equipment such as Networking switches and patch panels. NBN modems and routers Fiber optic internet equipment.
Do I need a data cabinet? Data Cabinets are a necessity if you want your equipment well organized, easily accessible and manageable