Description
About No Touch Door Exit
Ideal for hospitals, veterinary surgeries, and catering premises, the stainless steel no-touch door release exit button offers a hygeinic solution to unlocking doors, allowing you to present your hand to the reader without making contact, for hands-free door control.
Having a touchless operation is crucial for environments where hygiene is critical, and this infra-red driven contactless exit button is an impressively low-cost solution.
The circular surround to the infra-red sensor hosts a ring of LED lights, which in 'standby' state glows red, drawing attention to the door release button, and switches to green as soon as a hand (or object) is presented within the defined range, indicating that the relay has switched, and the door release (or whatever you use this for), has been engaged/disengaged depending on your configuration.
The unit has been designed to fit into a standard single-gang way, and we also have available a surface-mount kit, should you wish to have it proud rather than flush fitting into the wall.
Touchless Exit Button for Access Control System It is contacted Less Push Button for Door Opening
No Touch Exit Switch features;

The switch responds agilely and quickly. IP-55 industrial protection level…
No-touch to unlock avoid disease infection…
Detection range: 0.1 ~ 10 cm..
Used for Gate/Door/Exit/Automation control..
Led indicator: Power on, blue led on; hand close to the sensor area, red led on..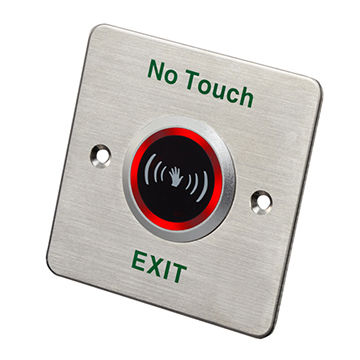 Product information
Pattern Name: Infrared
| | |
| --- | --- |
| Manufacturer | ONETAK |
| Part Number | IFAC02 |
| Item Weight | 4.2 ounces |
| Package Dimensions | 5.2 x 4.17 x 1.97 inches |
| Is Discontinued By Manufacturer | No |
| Pattern | Infrared |
| Voltage | 12 Volts |
| Item Package Quantity | 1 |
| Batteries Included? | No |
| Batteries Required? | No |
Touchless switch stainless steel infrared sensor exit button for door access control
. No touch / Touch free Exit Sensor (Diffused Detection)
· Optical / Infrared Technology
· IP-55 Ingress Protection / SUS 304 Stainless steel Plate
· User friendly (Healthy protection)
·· Free from contagious diseases spread
· Detection range: 0.1 ~ 10 cm
Application:
Gate/Door/Exit/Automation control
·· High capacity of relay dry contact (3A/AC120V,DC30V)
· Normally open/Normally close/Common relay output
· Twin led indicators for sensor standby or approached :
(1) Sensor Standby: BLUE LED ON
(2) Visitors whom approached to the sensor in 10 cm : RED LED ON
Features:
This DC 12-24V touch exit release button switch offers a reliable design for your access control system.
Specifications:
-Dimensions: L70xW115(mm)
– Standard Structure: inductive to exit
– Input : DC12-24V
– Working current: 50mA
– Output Contact: NO\NC\COM
– Mechanical Life: 500000 tested
– Applicable categories: for 86 bottom box or hollow door installation
– Operating temp: -20Celsius – +50Celsius
– Suitable Humidity: 0-95% (relative humidity)
– Sensing distance: 5-15CM adjustable
– LED Indicator:
1)White LED indicator: Power OFF;
2)Blue LED indicator: Power ON (standby);
3)Green LED indicator: Power ON (sensation)
– Weight: 0.77kg/0.169lb/2071oz
Package Include: – 1 x Inductive Exit Release Button Switch – 1 x Installation Kit
IP68 Distance Adjustable Time Delay Adjustable Access control infrared sensor Exit Button Touchless Exit Switch Button
| | |
| --- | --- |
| Product name | Infrared Touchless No Touch  button |
| Size | 30(L)*25(W)mm |
| Diameter | 28mm |
| Material | 304 stainless steel |
| Weight | 0.03kg/pcs |
By taking away the need to physically press a button to release a door, you can lower the risk of germs and viruses to be passed on via person-to-surface contact. A low-cost, effective solution to hands-free door control.
Infrared detection activates the switch with just a hand being in proximity, without direct contact.
The system can be connected directly to an access control device to be used as an entry/exit button or installed as a standalone device.
The built-in relay with timer is suitable to operate fail-secure and fail-safe locking devices. The bi-colored LED indicator gives visual verification of the device's status.
The infra-red device detects movement within close range and automatically opens the connecting door.
Advantages
Multi-colored LEDs
Compatible with most existing access control systems
Quick to install in place of current 'push to exit button
Adjustable operating distance
Peace of mind
Contact us today to find out how we combine cutting-edge technology with real-time intelligence to keep you and your business safe.