Description
Five way Smart Door Lock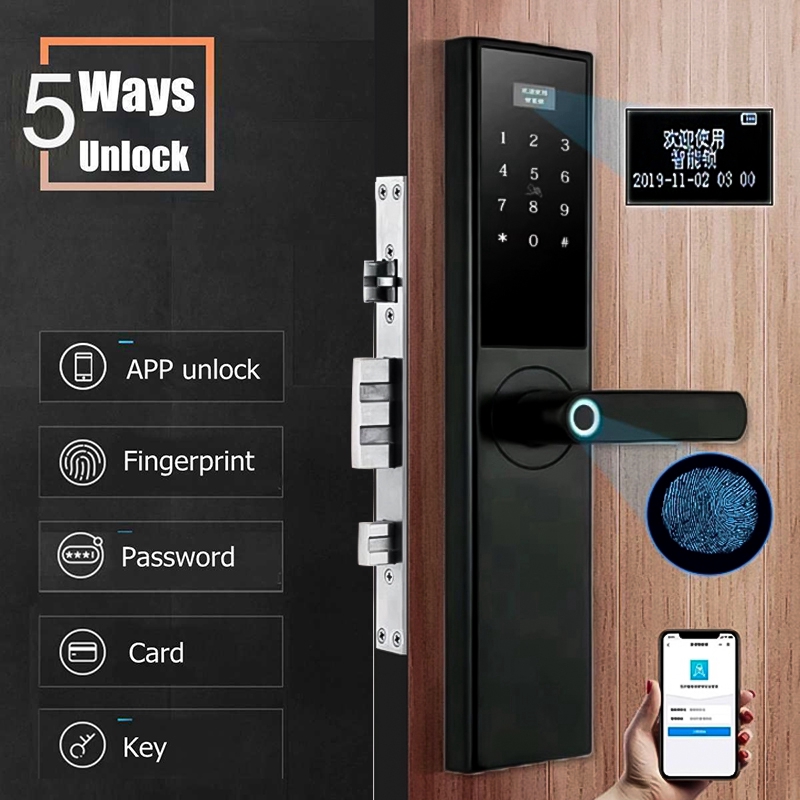 Five way Smart Door Lock price in Kenya is selling at Ksh 45,000.The smart door lock has five main unlock features that make is user friendly. Unlock your door using Fingerprint, Passcode, Bluetooth, NFC card, or Emergency keys. It gives you a registration of up to 100 Fingerprints and add up to 100 NFC Card users. OTP for Guests/housekeepers/employees: One-time passcode for guests with expiration. Customizable passcode scheduler for remote control.
Smart Door Lock features
Fingerprint And superior sensors
The Superior fingerprint sensor  detects the slightest touch. They are hardy sensor that stays good for years to come.
Door Requirements
Can be mounted on a wooden door that is 34 – 60mm door in thickness
Battery
4 Nos. AA batteries (4 Duracell batteries included)
Battery life
The battery lasts months to 1 year.
Operating app
Manage your smart lock with Tusk smart mobile application for Android and iOS, available on Google Play Store and Android App Store..
| | |
| --- | --- |
| Type | Smart Door lock |
| material | Aluminum alloy |
| Color | Black |
| Fingerprint capacity | 100 |
| Card capacity | 100sheets |
| Power supply voltage | 4.5-6.0v |
| Fits for | Both left open and right open door |
| Number of locks | 5 way |
| Lock method | Fingerprint,password,key,App,card |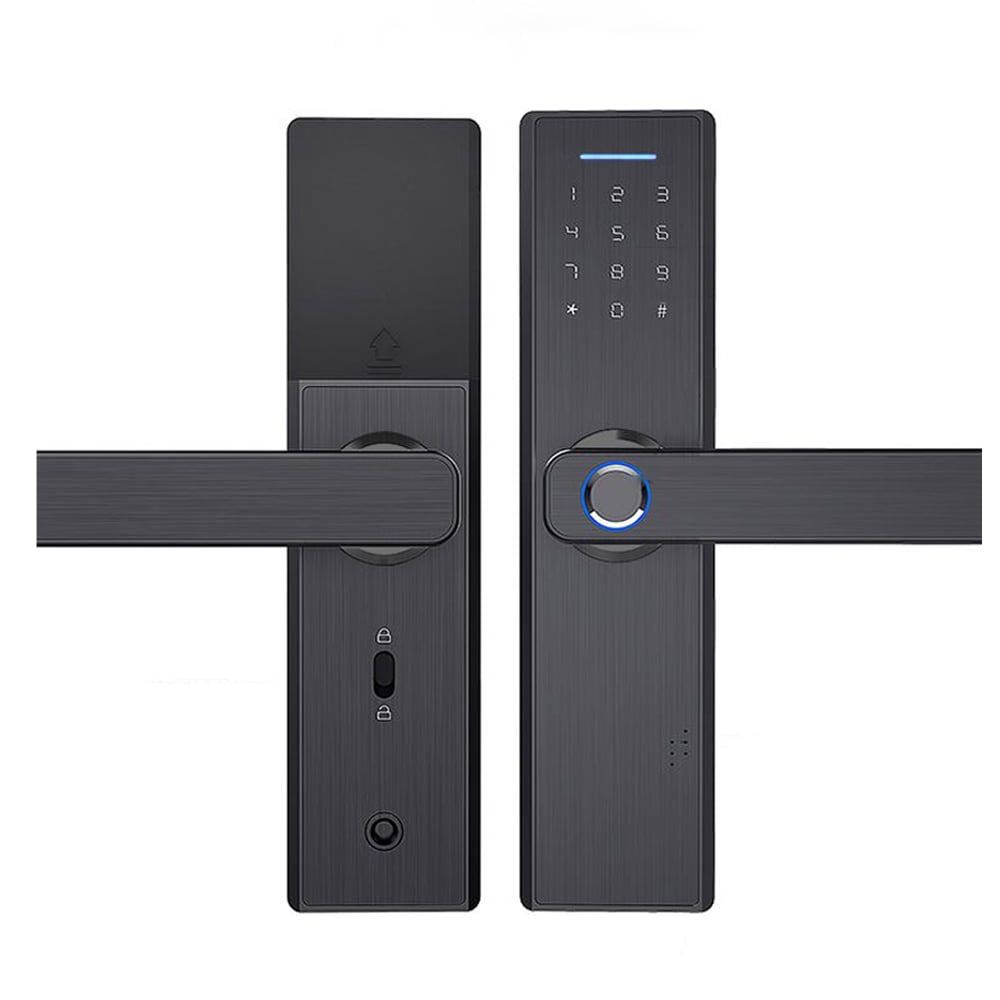 Why use the Five way Smart Door Lock
Door Lock with 5-Way to open the door:
APP unlock, fingerprint unlock, password unlocks, swipe to unlock, the key to unlocking.
No unnecessary lock break in
Prevents iron piece from being inserted and open, and design a layer of outer ring sheath on the position of the clutch shaft of the product to prevent the illegal elements from inserting and locking the clutch by the iron piece.
Tough to break
Class C pure copper lock core, technology needs more than 270 minutes to open, effectively increasing the warning time.
304 stainless steel anti-smashing lock body, with steel lock body, anti-smashing lock, safer.
Weather roof
Five way  Door Lock  has an Aluminum alloy casting, wear-resistant, high temperature resistant, corrosion-resistant.
The military-grade free handle, handle is in a free state after being locked, effectively protecting the internal parts of the lock body from external force damage.
5A drilled touch screen
dustproof
waterproof
sensitive touch sensing.
if the password is continuously entered incorrectly more than 5 times, the Five way Door Lock  will give a "beep" alarm sounds, locked for two minutes, the internal system does not affect, fingerprint can be unlocked.
Can Input 100 Sets of Fingerprints.